LEGAL & ENFORCEMENT DEPARTMENTS: Civil, Criminal, Appellate
BRIAN L. TARBET
Chief Civil Deputy
Brian L. Tarbet, Major General (Ret), has served his country and the state of Utah in varying capacities since beginning his career as both a member of the United States Army and as a lawyer.
General Tarbet's military career spanned nearly 40 years, culminating with his service as Adjutant General of Utah from 2000-2012. During this time, he was responsible for 7,500 Soldiers and Airmen of the Utah National Guard. He formerly served on the Army Reserve Forces Policy Committee of the Secretary of the Army.
During his service in the Army as a career intelligence officer, General Tarbet received many accolades and honors, including the Distinguished Service Medal, Legion of Merit, Meritorious Service Medal, Joint Service Commendation Medal, Army Commendation Medal, Army Achievement Medal, National Defense Service Medal, Military Outstanding Volunteer Service Medal and Armed Forces Reserve Medal. General Tarbet has also been recognized by the State of Utah for his service and has been awarded the Utah Medal of Merit, Utah Joint Staff Medal of Merit, Utah Achievement Ribbon, State Partnership Award and Utah Service Ribbon. Internationally, General Tarbet has been awarded the Wissam al-Istihkak al-Askari (Order of Military Merit) by the Kingdom of Morocco.
Now retired from the Army, General Tarbet was appointed as General Counsel in the Utah Attorney General's office in January 2013. He brought more than 20 years of legal experience to that position, including prior service in the Utah Attorney General's office as the division chief of the Tax and Revenue Division. During that time, General Tarbet was honored as Tax Practitioner of the Year in 1998 by the Tax Section of the Utah State Bar. From 2015 to 2017, General Tarbet and his wife Mary served a church service mission for the Church of Jesus Christ of Latter Day Saints in Germany. He returned to the Utah Attorney General's office as Chief Civil Deputy in April 2018.
General Tarbet is a Utah State University graduate, having earned a BA in political science with business administration and German in 1973. He furthered his education at the University of Utah where he earned a Juris Doctorate. He was a National Security Fellow at the John F. Kennedy School of Government at Harvard University from 1998-1999.
General Tarbet's wife, Mary, is a USU alumna who graduated in special education in 1977. The couple has five children and fourteen grandchildren.
---
SPENCER AUSTIN
Chief Criminal Deputy
Spencer Austin joins the Attorney General's Office with over four decades of legal experience as a recognized leader in the Utah and national legal communities.
In 1979, he joined Parsons Behle & Latimer's Litigation practice group where he concentrated on commercial litigation, environmental law, and white collar crime matters.
Prior to joining the firm, Austin was a deputy Salt Lake County attorney from 1975-1979. As deputy county attorney, he was assigned to the Career Criminal Prosecution Unit that specialized in prosecuting high profile cases within the state of Utah.
Austin was an adjunct professor of law at the University of Utah College of Law in the Trial Advocacy Program from 1980 to 1993. He has also been a faculty member for the National Institute for Trial Advocacy in Tucson, Arizona. He has spoken at numerous conferences and seminars on environmental white collar crime and related topics.  He received his B.S. from the University of Utah in Psychology and is a graduate from the University Utah, S.J. Quinney School of Law.
Austin has served as the Chief Criminal Deputy in the Utah Attorney General's Office since 2014. He had also served as a member of the Peace Officer Standards Training Council since 2014, and he was recently elected Vice-Chairman.
---
MELISSA A. HOLYOAK 
Solicitor General
Melissa Holyoak joined the Utah Attorney General's Office in September 2020, bringing extensive experience as a litigator, prosecutor, and leader. Prior to her appointment as Solicitor General, Holyoak served as president and general counsel of the public interest law firm Hamilton Lincoln Law Institute and its Center for Class Action Fairness. Holyoak represented class members challenging unfair class actions and consumers fighting regulatory abuse in federal district courts and appellate courts across the country.
Holyoak has argued in the Fifth, Seventh, Eighth, Ninth, Tenth and D.C. Circuits. She is a former prosecutor and attorney with O'Melveny & Myers LLP. She graduated from the University of Utah S.J. Quinney College of Law in 2003 as a member of the Order of the Coif and the Law Review. Holyoak is a member of the bars of Utah, D.C., and Missouri (inactive).
---
 POLICY / ADMINISTRATION / OUTREACH
RIC CANTRELL
Chief of Staff
Ric Cantrell joined the Attorney General's Office in August of 2017, bringing an array of communications, problem-solving, and organizational leadership experience with him. Prior to joining the office, he served as the Utah Senate Chief of Staff. Cantrell has presented nationally and internationally on topics like crisis management and the use of emerging IoT tools to build citizen engagement. He helped lead the Utah team to win the Online Democracy Award for best legislative website in the nation. His deeper background experience includes work as a ranch hand, wilderness instructor, suicide hotline worker, and teacher. He helped lead winning political campaign teams in Utah and Washington. Cantrell earned a BA from the University of Puget Sound and an Executive Leadership cert from Cornell.
Cantrell believes deeply in the value provided to the People of the State of Utah by a strong, ethical, independent Attorney General's Office. You can connect with Cantrell on LinkedIn and Twitter.
---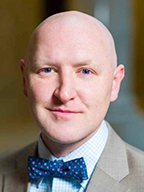 DANIEL BURTON
General Counsel
Daniel Burton, whose duties include intergovernmental relations and communications strategy, joined the Utah Attorney General's Office in 2016 after a successful career as a real estate attorney and political writer. His passion and expertise unite in his role as he oversees legislative efforts, constituent services, and all public information exchange including responding to government records requests (better known as GRAMA) to the office.
Prior to his appointment as General Counsel, he served as Director of Communications for the office. Prior to joining the Office in 2016, he was Senior Corporate Counsel with the Woodbury Corporation. A native Utahn, Daniel graduated from Brigham Young University and earned a law degree from the SJ Quinney College of Law at the University of Utah.